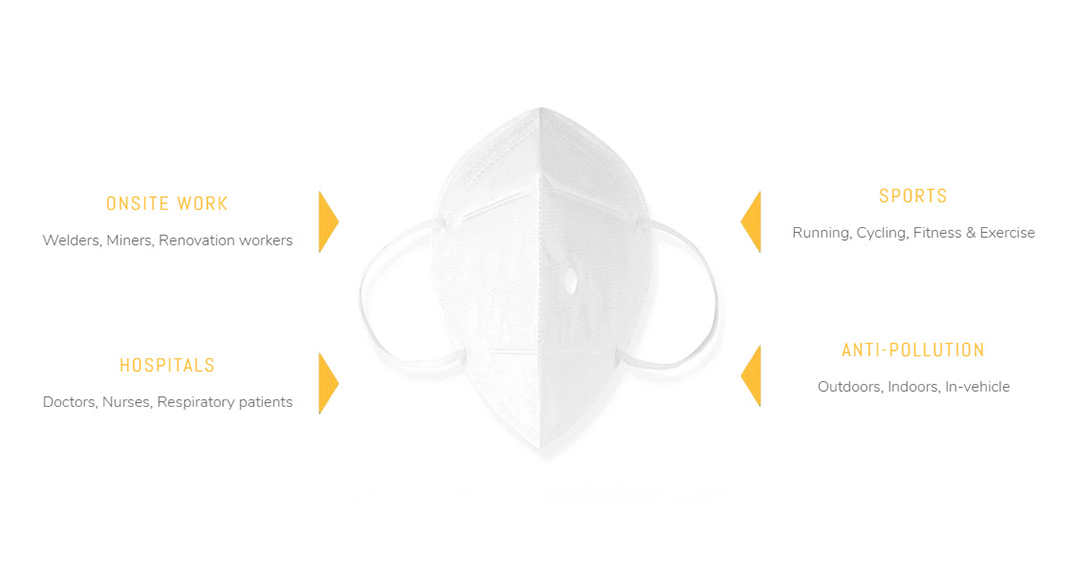 Why the Lyfy?
👉 Easy, cool breathing with powerful fan.
👉 Exercise or commute freely - tube is long and flexible.
👉 6-8 hours on a single charge at fastest fan level; 12 hours on low fan level .
👉 500 hours of usage per HEPA filter.
👉 Retrofit to your own cloth face mask .
👉 Light-weight - lighter than heavy duty masks .
👉 Filters PM2.5 by 99.97% .
👉 3 Adjustable fan speeds .
👉 Rechargeable battery .
👉 Comes with exercise armband .
The Lyfy HEPA filters filtrate 99.97% of particles. You will need to check if your masks are PM2.5 or not.

Lastly, the fan that powers the HEPA filter also acts to cool the air under your mask. With the Summer months approaching, have a 1650 rpm fan blow oxygen through a tube has got to be more refreshing than have no ventilation.

To recap the Lyfy HEPA Masks Features, we'll list them here just in case you haven't seen them yet.
Portable HEPA Filtration System

Anti-Haze, Anti-Dust, Anti-Virus

Protects against Formaldehyde

Travel-sized and lightweight 

HEPA filtration rate of 99.77% (PM2.5)

Low noise, 27-33 dB(A) depending on fan speed.

Large Air Volume (<5 cubic meters per hour)
Here are some of the features of this HEPA filtration system:
- H13 grade HEPA high-efficiency filter material can filter PM2.5 by 99.9% and improve purification efficiency.
- The super filter can be replaced to protect you from poisonous gas, poisonous smoke, smog and so on.

- Three-speed adjustment can freely switch the wind speed, refuse to be stuffy, and breathe more easily and comfortably.

- The three-dimensional non-woven mask fits the face comfortably and can be washed. The soft elastic ear band can freely adjust the elasticity to help achieve a good sealing effect.

- Rechargeable air pump, durable, compact and portable, with long battery life.
The last reason to consider the Lyfy HEPA filter is it can be retrofitted to your own mask. If you use a reusable mask, then this is environmentally friendly.

Thanks for reading and live the Smart Lyfe!

~Lyfy Staff