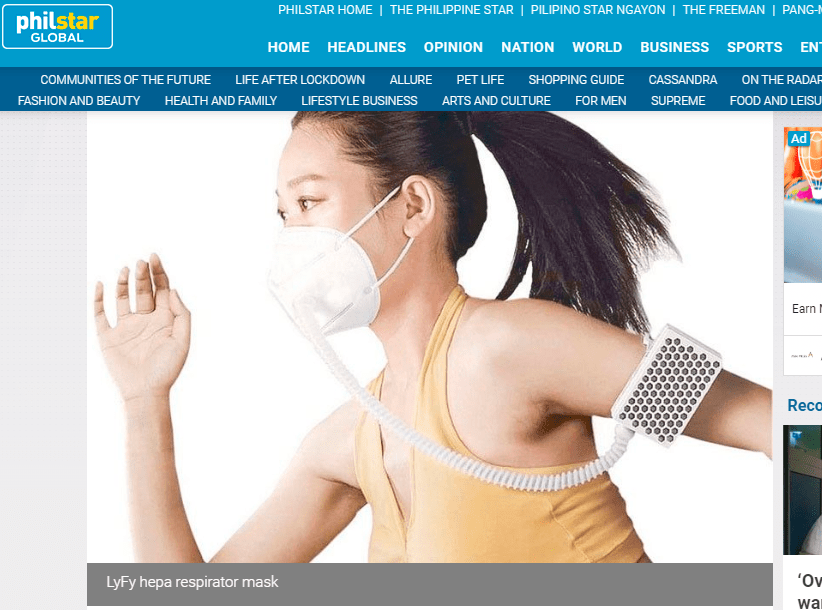 The Lyfy HEPA mask was featured in today's PhilStar's "The facemask has turned hi-tech" blog.  
Here is an excerpt: 
What would it be like to wear a mask that lets you breathe purified air? Well, the LyFy mask has that cut out for you. It is equipped with a portable ventilating air-filtration respirator with PM 2.5 Hepa filter, fan battery pack and respiratory facemask. It has a unique large-circulation power-ventilation system and continuous air supply: an axial flow fan is used that rotates 1,650 times per minute so that the clean air passing through the filter element can be accelerated and conveyed without stopping. Its 3D mask fits the face comfortably. The outer contour fits tightly to the face, prevents dirty air from entering, and makes each breath clean and fresh. Just adjust the nose clips, press the edges, fix both sides of the easy-to-release nose wings, and effectively isolate polluted air. It comes with a separate air pump that is rechargeable and can be worn on the arm.  Check out https://lyfy.co/ for price and availability.
The Lyfy has been selling well to dentists, school districts, and in areas like California, New York, Illinois, New Mexico, Arizona and other hotter climate areas. The fan-powered filter helps push refreshing air into the face mask. 
Learn more about the LYFY MASK here.