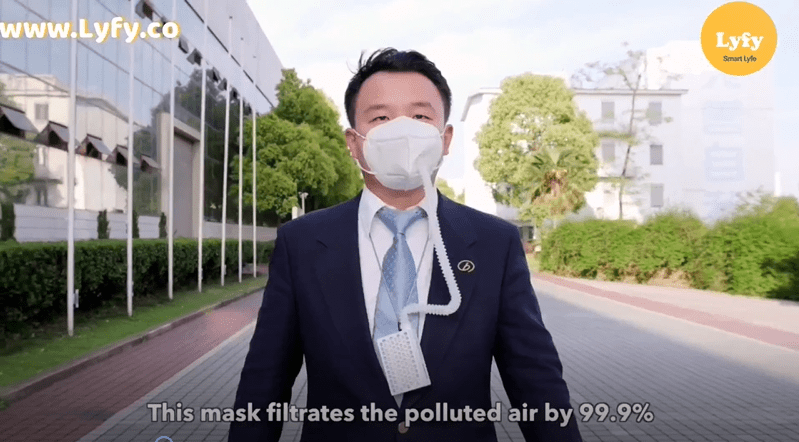 We've just released an introduction video for our Lyfy HEPA Mask. 
We show the Lyfy mask being worn by different professionals and in different settings. Let us know your feedback for the video. 
LyFy HEPA Mask Intro:
LyFy is a portable air purification filtration system with PM2.5 HEPA filter, fan, battery pack, and respiratory Face Mask.
Filter out highly sensitive odor and particle sensors, our air pro mini filters out amount of pollutants in your environment and adjust their speed accordingly to assure the freshest air quality at all times.
Our advanced BLDC Motor with inverter control that operates at 3 different speeds. At its lowest speed, the air purifier barely makes a sound. The absence of motor brushes makes our motor a much quieter, more efficient unit.
PRE-FILTER
The Pre-Filter effectively traps and reduces large sized allergens, dust, and particles.
Traps and reduces :
Dust mites
Large particles
Pet hair
Pollen
LyFy HEPA Mask Specifications
Portable HEPA Filtration System
Anti-Haze, Anti-Dust, etc
Protects against Formaldehyde
Travel-sized and lightweight
PM2.5 HEPA filtration rate of 99.97%
Low noise level; around 27-33 dB(A) depending on fan speed
Large Air Volume (<5 cubic meters per hour)
6-8 hours on a single charge at fastest fan level; 12 hours on low fan level
500 hours of usage per HEPA filter
HEPA filter pack tube can be retrofitted to your own face mask.
Light-weight - lighter than heavy duty masks
Can filter PM2.5 by 99.97%
Adjustable fan speed
Rechargeable battery
View the full product description here:  LYFY MASK