SportsMask, Airflow Oxygen Ventilation Training Masks
  We have worked with love and passion to allow you to be: free to breathe deeply free to exercise and train freely free to express yourself with several mask options We breathe more than 10,000 liters of air every day. But air not only keeps us alive - it also transports a variety of...

We have worked with love and passion to allow you to be:
free to breathe deeply
free to exercise and train freely
free to express yourself with several mask options
We breathe more than 10,000 liters of air every day. But air not only keeps us alive - it also transports a variety of particles that can be harmful to our health.
Have you ever had an allergic reaction to pollen in the air? Infected yourself during flu season? Do you live in a large city, smelling traffic fumes every day?
Just like food or water, the quality of the air we breathe daily affects our health and well being. In our ever more crowded environment, air quality has constantly decreased.
This is why we created SportsMask, built on the vision to create a world where everyone can breathe clean and healthy air. We believe that people who want to breathe healthy, should have a reliable and fashionable way to do so.

Drawbacks of Existing Masks
Each of these mask types suffers from the following three issues.
Poor face seals: Existing masks don't always achieve an adequate seal on the face, resulting in decreased protection [1]
High waste and cost: N95 masks are intended to be changed regularly, which is inconvenient and expensive in many use cases
Scalability of manufacturing: Face masks cannot be produced fast enough to meet the demands of both the health care system and general public
Cotton masks often have leakage problems and filter only twelve percent of pollution particles, Disposable masks have leakage problems and they are uncomfortable to wear.
Air Leakage is very common for disposable masks.
The Problem
9 out of 10 people now breathe air containing high levels of pollution. Updated estimates reveal an alarming death toll of 7 million people every year due to outdoor and house air pollution.
Air pollution, dusty neighborhood, contaminated environment... you need to wear a  mask. But do all anti-air pollution air filter masks or face masks ensure the same level of protection?
In order for a face mask to be effective, it needs to be well sealed, and dense enough to filter out tiny particles as small as 0.1μm. While large amounts of pollution are visible to the naked eye (eg. smoke), they are still present in harmful quantities when not visible.
Introducing SportsMask: Superior Airflow & Breathing Protection
The SportsMask addresses the problems with existing masks and offers clear advantages over competitive options. These benefits include:
 High-Efficiency Filters: 99% protection from contaminants down to .1 micron for normal breathing rates
 Reduced Cost & Waste: Scalable filter technology reduces waste and cost
 Durable, Reusable Design: Easily cleanable design provides years of use
Retrofit your own preferred mask to the SportsMask air purifer system!
SportsMask Airflow Fan PM2.5 HEPA Filter Face Mask - How it Works?
SportsMask is an adjustable airflow oxygen tube mask connected to a HEPA PM2.5 air filter, Sports Masks' 3-speed fan enables easy breathing and refreshing purified air.
Retrofit Lyfy Sports Mask to your reusable cloth or respiratory face masks. Wear running, biking, jogging, playing sports or in gym.
3-Speed Fan-powered HEPA PM2.5 Air Filtration Mask
Sports Mask is a portable 3-speed fan-powered HEPA Filter system that purifies air by 99.97% PM2.5 and feeds cleaned air into face mask. Retrofit to reusable masks.
Why wear the SportsMask?
The SportsMask air filtration system purifies PM2.5 by 99.97% with its H13 grade HEPA filter. The filter is replaceable and this venting mask system protect you from poisonous gas, smog, smoke, germs.
PRE-FILTER
The Pre-Filter effectively traps and reduces large sized allergens, dust, and particles.
Traps and reduces :
Dust mites
Large particles
Pet hair
Pollen
Why the SportsMask?
 Easy, cool breathing with powerful fan
 Exercise or commute freely - tube is long and flexible
6-8 hours on a single charge at fastest fan level; 12 hours on low fan level 
500 hours of usage per HEPA filter
Retrofit to your own cloth face mask 
Light-weight - lighter than heavy duty masks 
Filters PM2.5 by 99.97% 
3 Adjustable fan speeds 
Rechargeable battery 
Comes with armband strap, exercise lanyard & velcro adhesive patch
Wear the SportsMask Air Purification Ventilation Mask while commuting to work, biking or exercising in the gym.
SportsMask HEPA filter Features:
H13 grade HEPA high-efficiency filter material can filter PM2.5 by 99.97% and improve purification efficiency. The super filter can be replaced to protect you from poisonous gas, poisonous smoke, smog and so on.
Replaceable H13 HEPA Filters
Blocks 99.97% of air particulates
Average use time is 150 hours
High Quality, Multi-Fold design
N95 < N99 < H13 HEPA Filters
You may have heard the term N95. This simply means 95% of air particles are being captured. At the higher end of the spectrum, N99 (99%) masks are offered for more industrial applications such as painting or waste cleanup.
Moving one step further SportsMasks', H13 HEPA filters block 99.97% of particles which are 0.3 microns in diameter or larger. To give you a bit of context, one strand of human hair is about 75 microns across!
Our high-end H13 HEPA filters use melt-blown, nonwoven fabrics, to block harmful chemicals, bacteria, viruses, pollen, pollutants, smoke, micro-dust, odor and more
Our H13 grade filter offer protection against a multitude of hazardous air pollutants.
SportsMask Specifications
Portable HEPA Filtration System
Anti-Haze, Anti-Dust, etc
Protects against Formaldehyde
Travel-sized and lightweight
PM2.5 HEPA filtration rate of 99.97%
Low noise level; around 27-33 dB(A) depending on fan speed
Large Air Volume (<5 cubic meters per hour)
6-8 hours on a single charge at fastest fan level; 12 hours on low fan level
500 hours of usage per HEPA filter
HEPA filter pack tube can be retrofitted to your own face mask.
Light-weight - lighter than heavy duty masks
Can filter PM2.5 by 99.97%
Adjustable fan speed
Rechargeable battery
Aiflow per cubic meter:
Who can use the SportsMask? 
Onsite Work: Welders, Miners, Renovation workers

Hospitals: Doctors, Nurses, Respiratory patients

Sports Athletes: Running, Cycling, Fitness & Exercise

Anti-Pollution: Outdoors, Indoors, In-vehicle
Is the SportsMask right for me?
SportsMask is designed to provide excellent protection to those who are most at risk from airborne contaminants, whether due to increased environmental exposure or preexisting conditions. People who may benefit from improved protection include:
SportsMasks are  not recommended for those who need protection against oil-based particles or chemical vapors.
Whether you are cycling, exercising, commuting or in an area that has a lot of pollution, you can rest assured with the SportsMask.
SportsMask's HEPA filter box has a battery charge level indicator. The box is charged via USB and can last 6-12 hours on a single charge depending on the fan speed you choose.
SportsMask comes with all the accessories you need including: USB cable, air tube, 2 masks, lanyard strap, H13 filter, battery and velcro adhesive patch.
EXCLUSIVE: Only Indiegogo SportsMasks with also come with a free exercise armband! ($9 value)

Click the perk button below to order:
Wanna reusable mask option that can be retrofitted to the SportMask?  Looking for a more simple breathable exercise mask solution? 
Introducing FanMask - the Fan-powered Airflow Mask.
New black FanMask with adjustable airflow. This fan-powered mask has a PM2.5 HEPA Filter that filters air at 99.98%. In short, this mask keeps all the bad things out.
PRE-FILTER
The Pre-Filter effectively traps and reduces large sized allergens, dust, and particles.
Traps and reduces :
Dust mites
Large particles
Pet hair
Pollen
Filter out all the bad stuff!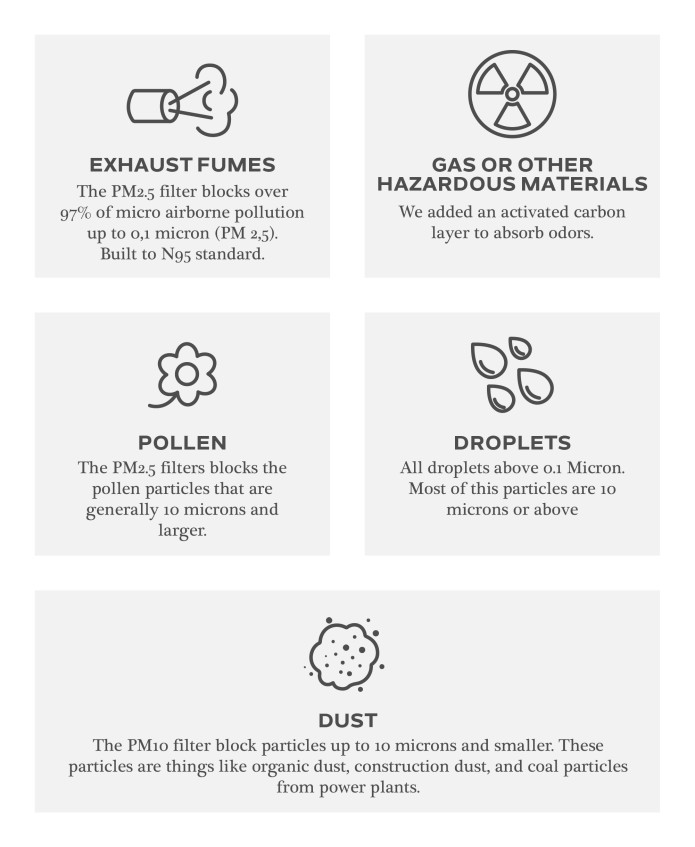 This motorized fan-powered FanMask has 2-speeds so you can control the airflow according to how hard you are running, exercising, training, or if it just too hot outside!
FanMask Features
2-speed Fan
95% Filtration
USB charged (internal battery)
Adult Size
Male/Female
Optional Filters - buy additional filters as add-ons during checkout.
Why wear the FanMask?
Activated carbon filter: Porous design provides good permeability. The activated carbon layer can effectively remove dust, odor or harmful gases. Removable filter, convenient, clean and hygienic.

Powerful protection function: The mask with activated carbon filter can block more than 99% of 0.1 particles, such as dust, pollen, car exhaust, smoke, smoke, gas, harmful substances, suitable for 4 seasons.

Unique ventilation design: Double air valve helps you breathe more easily and freely when riding a bicycle.

Lightweight respirator: The mask can be folded and easily fits in your pocket. According to the face design, the lower part of the nose bridge is blocked out, and the nose bridge is fixed with an aluminum plate to prevent sliding.

Versatile: This mask is suitable for all outdoor sports and activities such as running, walking, cycling, motorcycle, skiing, snowboarding, paintball shooting, cleaning, carpentry, painting and mowing
FanMask Specs
Module: Fresh air filter module
Filtration efficiency: 99.98% (particulate matter above 0.3 microns)
Battery capacity: 500MAH
Input voltage: 5V
Maximum fan volume: 4.5CMF
Maximum noise: 27DBA
Features: Intelligent fresh air active air supply
Fan air volume: third gear
Charging time: about 2H
Life time: high speed 4H, medium speed 6H, low speed 8H
Product color: black
What comes with the FanMask?
Fanmask 
Inner  mask 
Fan module 
Filter element 
Manual
USB Charging cable 
Note: Add-on additional filters and inner masks during checkout.



Click the perk button below to order:

Wanna cheaper but n95-grade filter mask? Wanna retrofit a reusuable mask to your SportsMask?
TrainingMask Features: 
▶️ Optional 5-layer filter - add-on filters during checkout
▶️ Comfortable Design (designed in USA)
▶️ Adjustable ear band - One size fits all
▶️ Breathable Fabric - comfortable when exercising or commuting
▶️ Metal noseband & foam nose bridge for tighter fit
▶️ Retrofit to the SportsMask oxygen tube
Foam nose bridge and metal band for tighter fit. Adustable earband - one-size fits all.
TrainingMask with adjustable ear loops.
Optional 5-layer N95-grade Training Mask filter
Select the plain style or "Pug Luv" style during checkout. 
Click the perk button below to order:
TrainingMask Production Status - Ready to ship 1-2 weeks after campaign finishes.
The SportsMask is now live on Indiegogo - Save on the bundles SportsMask Bundles 
If you don't want to wait for November delivery, you can check out on Lyfy.co and we'll ship out immediately.

Thanks!


Shipping Guarantee 
SportsMask and FanMask have already been produced and are ready to ship. SportsMask and FanMask will ship as soon as the campaign ends.
We've already made a sample production run for TrainingMask. All campaign backer ordres should ship out around 2-3 weeks after the campaign ends.
You can upgrade to express DHL shipping during checkout. Select the DHL upgrade add-on. DHL takes 6-10 days on average. Regular Worldwideshipping will take around 2-3 weeks to deliver.
We use Kickbooster for affiliates and referral compensation.
Learn more and sign up: Earn 12% commission on every SportsMask sale you bring

Thank you for helping us to bring SportsMask to life.



For media requests or wholesale inquires: Contact Karma at: info@lyfy.co

Make up to 12% Commission!
The SportsMask, Airflow Oxygen Ventilation Training Masks was built with people like you in mind. Something to keep you happy. Every. Single. Day.

Inventory Last Updated: Dec 06, 2023
At Lyfy.co, we know that reliable shipment of your merchandise is important to you. 
We will declare the amount you paid on the customs invoice unless otherwise
requested. Lyfy is not an importer and will not be responsible for any customs charges. Please check with your local customs agency before ordering.
 How long does delivery take?
4-8 business days for DHL shipping. If ordering during the holidays, please allow a few extra days for delivery.
8-24 days for Free shipping (orders over $100) and regular shipping (orders under $100)
 Due to the Covid-19 pandemic, please allow 1-4 days for tracking to update in DHL's system. 
Orders ship within 1 day of being received.
What countries do you ship to?
We offer international shipping currently and all orders on Lyfy.co enjoy free worldwide shipping.
I ordered more than one item. Will they all be delivered at the same time?
Depending on the product. We will try to make sure all your items reach you at the same time. Once an item has been shipped, you will receive a shipment notification email.
How can I check the progress of my orders?
To check the progress of your order, please log into your account and go to the online Order Status to see the status bar in the Order Details page.
Can I change the delivery address of my package after it has been shipped out?
Unfortunately, we cannot change the delivery address once the product is en route.
What do I need to do when I received a different product than what I ordered?
Please contact us via Email at sales@lyfy.co